Anteform Has Finally Been Released
---
I am thrilled to finally officially launch Anteform. It's just my second itch.io release. It's a weird detective story, and by that I mean the subgenre where a mystery story contains sci-fi and/or horror elements. The game provides enough clues for you to solve the mystery if you talk with enough people and search enough targets, but it won't hold your hand along the way. It's got a retro feel and features an overview map with enterable areas including some 3D dungeons.

You've been called into remote Anteform Valley to investigate a missing person. Before you even depart you learn that a second person has disappeared, too, and evidence quickly mounts that it's more than just a simple missing persons case. Talk with the locals, do a little breaking & entering, search through some desks and files, and battle with wildlife that puts a little bit too much stress on the wild as you try to figure out what's going on and hopefully prevent something even worse from happening.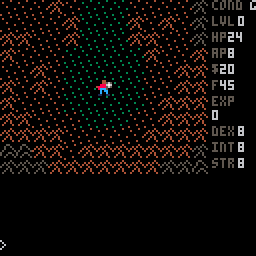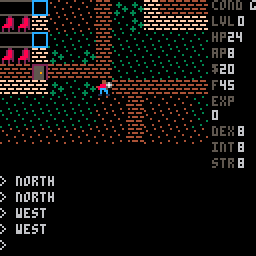 It's the first game built off of the Minima Engine for PICO-8 besides Minima itself to be released, although I've been told others have been toying with it for their own games as well. Being built with this engine it features a UI and general feel similar to the classic Ultima games as they were made for the Commodore 64/128. A keyboard is required, but beyond that it runs on a wide array of platforms, and this release supports Linux, macOS, MS-Windows, Raspberry Pi, and Web.

Files
anteform-anteform-linux.zip
20 MB
Version 1.0.0
Aug 17, 2019
anteform-anteform-osx.zip
23 MB
Version 1.0.0
Aug 17, 2019
anteform-anteform-ms-win.zip
20 MB
Version 1.0.0
Aug 17, 2019
anteform-anteform-raspi.zip
20 MB
Version 1.0.0
Aug 17, 2019